Lance Coco and I have got real serious about speck hunting in the last two years. We each bought a acrylic speck call not knowing how to blow it. After James teaching us and practicing a lot. We finally got the ba
sics and started sounding more like a speck and started bringing them in close. I have heard a lot of calls, RCC calls are by far the best call on the market. I have got a lot of compliments on this call. I will recommend this call to anyone. Not only is this a great call, but y'all are great guys that care about your customers. Thanks for all your help! Attached are pics of our success.
                        Barton Sing & Lance Coco
- Barton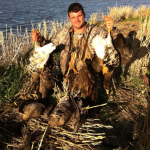 Hey James and bill just wanted to send some pics of what your amazing call has done for us. We went from pass shooting maybe one speck a year to killing specks every other hunt twenty yards off the gun barrel with no speck decoys in the duck blind. Thanks for everything once again looking forward to seeing the shop soon
- Lance
Hi Bill and James, what a difference a good call makes. the boys in arkansas camp could not believe the birds i was turning and getting to come in. i even had some birds circling our duck decoys looking for thier mates. i only had a month to practice with my new call before our trip and am basic at best. after three weeks of hunting i was starting to sound half ass good!!! the whole gang in camp said there going to get one of your calls for next year. miss lu lu with first two specks we got hunting alone second day of trip.first two flocks of the morning came right into the decoys and i busted one out of each flock. wish the limit was 6 !!!!!!
- Steve and Mis Lu Lu
Bill,
It was a real pleasure meeting you yesterday and I did enjoy my short visit. Thanks for taking the time to meet with me!!!! When I got home yesterday I started playing with the call, I WANT TO TELL YOU, this is the finest thing I ever put to my lips. After a short while of getting used to it,  I can really get this thing to talk.  I have NEVER paid that much for a call in my life but I think this one was worth it!!!!!  I think as time goes on It will all come together, as long as the wife doesn't throw me out of the house. HAHAHAHA!!!
I know what they sound like on the ground and in the air, it's just a matter of getting my mouth, tongue and air to come together. I don't think I'll have a problem getting it right with this call!!! I should have done this a long time ago.
Your videos are really helpful to me to as well. They help me to get the tones and notes where they should be. THANKS!!!!   I can't wait to get after the specs with this thing!!!!!
- David Comeaux